Posts tagged with "Freshwater Fly Fishing"
---
A 9 foot 5 weight fly rod is the most common first fly rod purchase made by anglers getting into fly fishing. That is because fly fishing is still primarily thought of as a trout fishing technique by non-fly anglers. But for most of the world, nation, and even San Diego County, trout are not nearby or only available in small numbers for a few months of the year. Here in the San Diego area, when we take into account both freshwater and saltwater species, there are dozens more species available...
Product Spotlight
 · September 28, 2018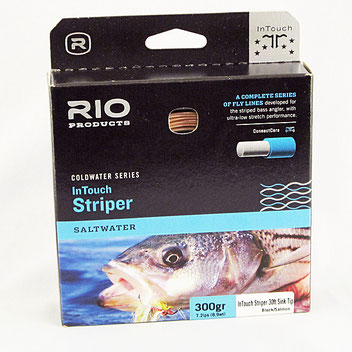 The Rio InTouch Striper 30 foot sink tip line is a versatile integrated shooting taper line that can be used in both saltwater and freshwater environs. With a 30' fast sinking head, an extended 14' intermediate sinking back taper and long thin running line, the InTouch Striper line is great for making those long distance casts and getting the fly down quickly. The line is available with head weights from 250 to 450 grains in 50 grain increments and is suitable for 7 through 11 weight rods....