Throughout the saltwater fly fishing community a 9 foot 8 weight rod is usually the most commonly recommended starting rod. That is a great choice that will be useful for a wide range of conditions. However, in our Southern California bays and estuaries, the vast majority of fish caught will be less than two pounds in weight and often less than one pound and not as much fun when caught with an 8 weight rod compared to a lighter rod. Trout sized gear will often do quite nicely when pursuing our...
Product Spotlight
 · September 28, 2018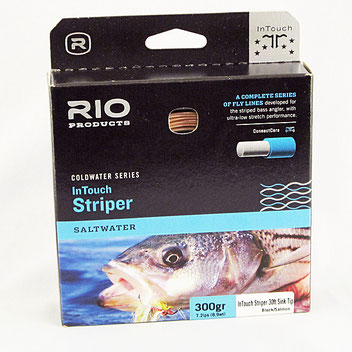 The Rio InTouch Striper 30 foot sink tip line is a versatile integrated shooting taper line that can be used in both saltwater and freshwater environs. With a 30' fast sinking head, an extended 14' intermediate sinking back taper and long thin running line, the InTouch Striper line is great for making those long distance casts and getting the fly down quickly. The line is available with head weights from 250 to 450 grains in 50 grain increments and is suitable for 7 through 11 weight rods....