Text and images by Craig Smith
---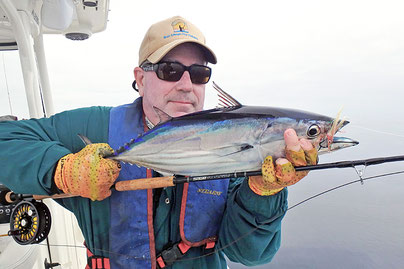 Some of the Stroud Tackle team headed out for a bluewater expedition yesterday with a goal of finding the skipjack tuna which have been around in plentiful numbers offshore recently.  We love skipjack as a great light tackle sportfish and great table fare when properly prepared.  "Skippies" are one of our favorite fly rod fish.  The plan for the day was to head southwest to an area where the fish had recently been reported and start hunting.
So we met at the dock at Shelter Island at 0530 and were quickly on our way for to the San Diego Bay bait barge for a half scoop of sardines for use as chum, or as live bait on conventional tackle if the situation warranted.  By a few minutes after 0600 heading out of SD Bay at 23 knots towards the Coronado Islands in calm seas with a light breeze. But that was not our destination. After zipping though the middle grounds the autopilot was set for a course of 195 degrees.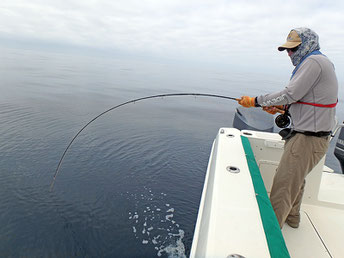 About two hours after leaving the bay we were approaching Hidden Bank, about 40 miles from Pt. Loma, and slowed to put out two trolling rigs. Within 5 minutes we had a couple of skippies on board which were bled out and put into the kill bag. We had no grabs on the fly so on again with the trolling feathers. Another jig stop and two more skippies in the kill bag (all skipjack were released after that).  We threw some live chum (2-4 sardines) out and had boils around the boat. In go the flies for instant hookups. We would get a few then the fish would get boat shy.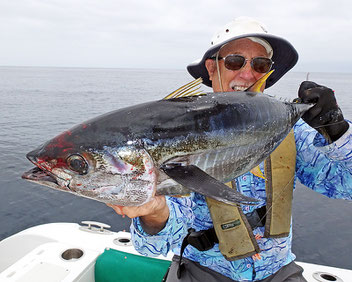 Out would go a jig rod and after a few hundred yards after a another jig strike followed by us tossing some chum and then cast the flies. We would repeat this again and again for more than two dozen skipjack released. We got to see a lot of backing go out - and crank it back in. Many fish were netted but we found that with barbless hooks, when we had a skippy at the boat we could drop the rod tip to give some slack and sometimes the fly would fall out for an easy release. The skippies ranged from 6 to 10 lbs with a couple going a bit bigger. We did get one yellowfin tuna but that was the only one the came up to play.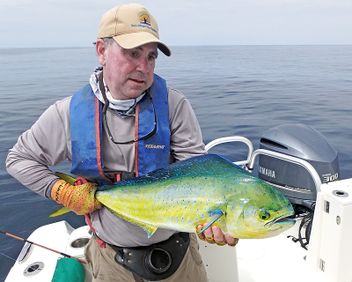 After a couple of hours of skipjack action we decided to do something different and started hunting kelp paddies for dorado, yellowtail, or tuna while making the 40 mile run back to San Diego Bay. We found a bunch of paddies that were empty but one paddy held a single dorado - which I was able to hook up.  Along the way we saw a whale and some porpoise.  We checked out the pods of porpoise to see if there were any yellowfin tuna underneath them but found nothing.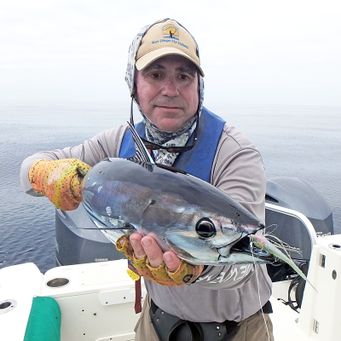 Gear for the day was 11 and 12 wt fly rods with fast sinking integrated shooting taper fly lines. A 10 wt would have been fine for these skipjack, and even a 9wt for the smaller fish but I didn't want carry a bunch of fly rods and still be prepared if we ran into some teener size yellowfin or yellowtail. The only fly pattern used was a Flashy Profile Fly on 1/0 hook in sardine colors.
Late summer and early fall often brings excellent offshore fishing for tunas, dorado, and yellowtail to Southern California and Northern Baja California waters.  If you do not have a boat or a friend with a boat there are several local guides who can get you out there.  Some of them are listed on our Resource Links page.
If we were going to have only one rig for our local offshore fishing it would be a 12 weight rod, a fast sinking integrated shooting taper line such as a Rio Outbound Custom T-14 or Rio Leviathin line, and a quality reel that will hold at least 250 yards of 30 lb. Dacron backing.  That rig could be supplemented with 9 through 14 weight rods to cover a wide range of species and sizes of your quarry.