Text and images by Craig Smith
---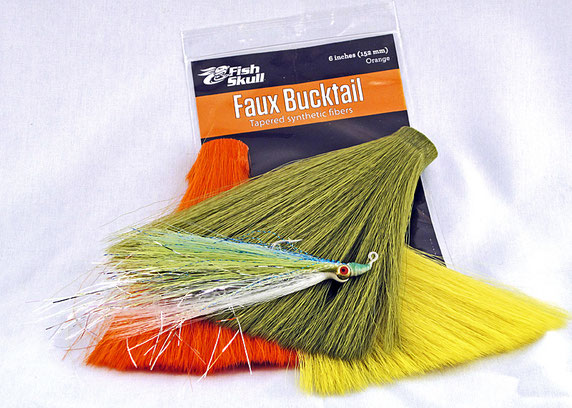 A couple of years ago, Flymen Fishing Company, producer of the fantastic Fish Skull heads, fish spines for articulated flies, and other great products, introduced Faux Bucktail.   Fish Skull Faux Bucktail is an interesting synthetic streamer material that we, along with many of our customers, have found useful for some of their fly and jig making enterprises. Unlike most other synthetic hair materials, Faux Bucktail is tapered.  Like many other synthetics, it is slightly crinkly.   The most obvious use of this material is as a substitute for real bucktail.   So how does it match up to the real stuff?   It is a bit more stiff than real bucktail so does not have quite as much movement in the water.   Also, the colors are a bit drab compared to a lot of dyed bucktail.  This is not a big deal for the darker colors, but the reds, oranges,  yellows, pinks, and chartreuse, are not quite as bright as we can find in dyed natural materials.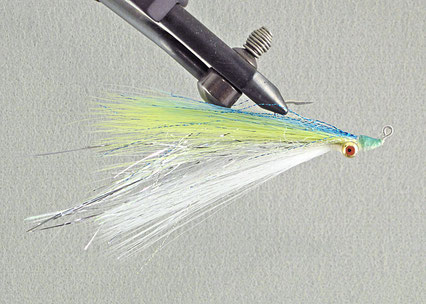 On the positive side, Faux Bucktail comes in six inch long hanks.  Most of you who tie large flies know how difficult it can be to find good quality natural bucktail with usable long fibers.  On initial inspection of the packaging, there does not appear to be a lot of material in the package.  However, the hanks of material are very dense and you will likely get more flies from a hank of this material than you will from several  average bucktails.   An advantage this material has over natural bucktail is that it is much more durable and resistant to toothy critters.   The Calico Bass, Barred Sand Bass, and Spotted Bay Bass that we commonly pursue in Southern California have jaws full or small raspy teeth that are really hard on natural materials.   It is not unusual to need to retire a fly tied with natural bucktail after a couple of dozen Calico Bass;  however, I have flies tied with Faux Bucktail that have taken more than five dozen bass and are still going strong without loss of any of the Faux Bucktail though much of the flash material incorporated into the sides of the flies has been chewed away. 
Since Faux Bucktail does not move quite as fluidly as natural bucktail, we find it more useful for flies of lengths four inches or longer.   Due to its slickness, we recommend adding a bit of your favorite fly tying glue to the tie in point each time you add a bunch to your fly.  
Many of our customers purchase materials for tying jigs for casting with spinning or level wind gear.  Some of these customers have found Faux Bucktail useful for their jig patterns.  A few have also used this material trimmed to short lengths for creating sabiki rigs used for catching mackerel to be used as bait.   If you need a substitute for bucktail for tying longer flies, we suggest you give Fish Skull Faux Bucktail a try.