Text and images by Craig Smith
---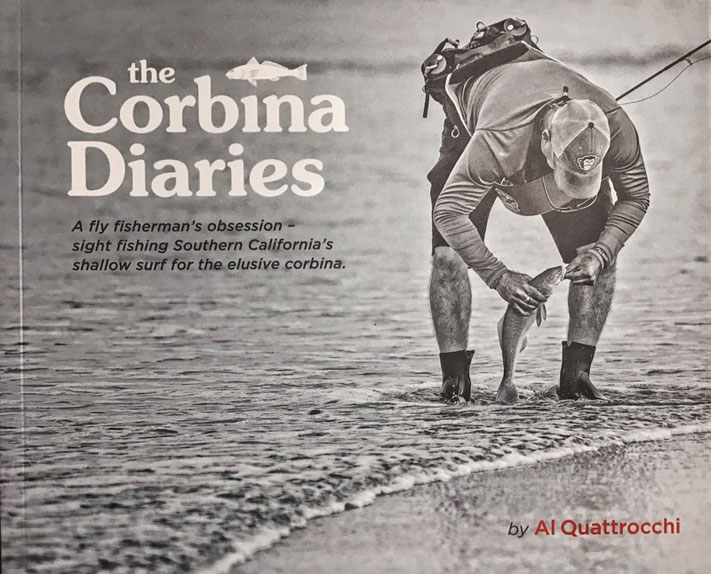 Al Quattrocchi came by the shop a couple of weeks ago  and dropped off some copies of his new book "The Corbina Diaries".   Al "Q" is well known in the Southern California fly angling community and is recognized beyond California as an accomplished fly angler and enthusiastic teacher.  His live presentations on fly fishing our SoCal saltwaters are always great draws with the crowds excited by his energetic and clear discussions of tackle and techniques.
Sight fishing for Corbina is considered by many to be one of the most difficult pursuits for fly anglers  to consistently achieve success.  This book will help shorten the learning curve for any angler who wants to improve their catch rate or get started chasing these elusive fish. 
I have now read through the book three times.  I have fished the surf since the mid 1990's and learned a few things and was reminded of many more.  The book is very well written.  Just enough information in small, easily digestible chunks backed up with excellent illustrations and some of the best surf zone beach structure photography I have seen in print. Topics include Corbina biology, sand crabs, tides, beach structure, lines and leaders, flies, and more.  Some fly fishing books can get bogged down in minutia that can overwhelm the newcomers and even some of us old timers.  But not this book.  It is focused on sight fishing for Corbina, which is generally a summer through early fall activity here in SoCal.  
Al's book has the best beach structure photography, at least with respect to how it relates to So Cal beach fishing, that I have yet to see in print.  The drone photography of Corbina moving down a beach and showing an angler targeting them is spectacular and very instructive.  Those photos alone with the accompanying text alone are worth the price of the book. These are supplemented by excellent diagrams.  Even though the book is about Corbina, the beach structure imagery will be of interest to perch anglers also. Al's clean writing is backed up by supporting contributions from Kirk Deeter, Nick Curcione, Dr. Milton Love, and Jim Solomon.
The book has just the right amount of information, is a pretty relaxing and informative read, and wonderfully free of dogma.  You can read through it in an hour or two, but you will find that you want to go back and carefully review the content multiple times if you are in to surf fishing Southern California.  It is appropriate for the novice and experienced fly anglers. If you are interested in targeting Corbina on the fly, I highly recommend this book.
We will keep copies in that shop for sale as much as possible.  They can also be ordered online from Luv2FlyFish media.